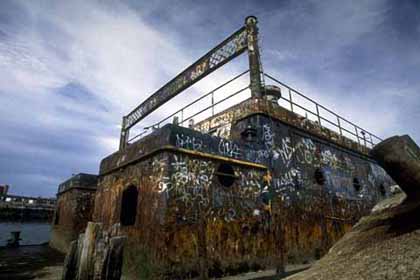 In the Williamsburg section of Brooklyn, an abandoned barge lay grounded, moored to its pier. Resting on East River silt, a constant cycle of tidal changes filling and emptying her hull. Vandals had already broken or stolen anything of value, only the hulking structure remained.

Her proximity to Manhattan evoked thoughts of an active past life, though her condition belied the brutal reality of time over which her needs were neglected. This barren state of which she insisted was the essence that bared her soul.

But the barge had been built to endure ­ its beauty shining through its decay. The boat became a magnet for the parkless neighborhood youth. A makeshift dock for access to the river. The structure became a place for teens to hang out, a place of escape.

Only time could render a relic so perfectly situated, only illumination could breathe life into its obsolescent state. Clarklight allowed visitors to inspect and explore the rusty walls and water-filled hull. Her silent story of service and abandonment could be seen for one night only.